The DongFeng DF-504G3 2019 tractor
The "heavy" parts of the DongFeng tractor seem to be well made and resist on the long run.
It is a very big compact tractor, not a mini or micro tractor as some Iseki's, Yanmar's or Kubota's.
This tractor is strong and heavy enough to plow, move huge mobil-homes, or for to work in the forest.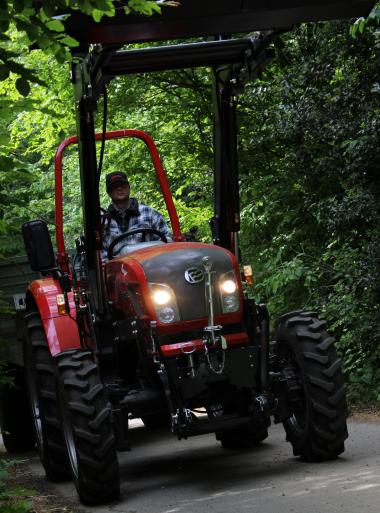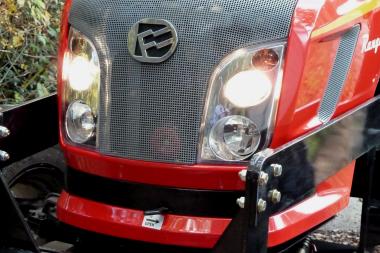 Security and Comfort
If you actually own an elder tractor, you know they are quite dangerous.
And also : they don't offer much comfort neither !
Look at this Dong Feng compact tractor:
- flat floor for easy access
- a fully synchronised gearbox 12F + 12R
- synchronised shuttle
- low situated exhaust
- folding roll over protection system
- safety belt: a must
- powerful halogen headlights
- 2 powerful worklights
- fixed handy toolbox with some tools
- 4 worklights on cabin version
- toolbox with tools
- children start protection
- 12V battery circuit switch
- 90Ah VARTA battery maintenance free
- hand and foot throttle
- steering wheel with warm upholstery
- independant power steering
- spring seat, adjustable to your weight

Direct Injection Diesel
The diesel engine, Chinese build CHANGCHAI brand, type 4G50B, is a 3.26 liter 4 cylinder engine.
The power is 50 hp (36,8kW) at 2400 rpm (12 hours measuring).
The engine's torque, the tractor's weight and size are also important: Torque 164.7 Nm at 1680 rpm
Weight 2090 Kgs, with cabin 2260. Wheel base 1880 mm.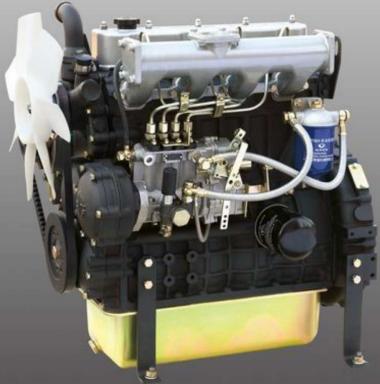 New Transmission
The fully synchronised gearbox of the G3-models offers the same easiness as in your car.
12 Forward and 12 Rearward gears, allow a speed range from 1.6 km/h up to 33.1 km/h, at 2400 rpm.
With the optional "Creeper gears" the tractor will have 24 forward gears and rearwards, and a first creeper gear giving 210 m/h at 2400 rpm.
The synchronised shuttle shift allows rapid handling without too low speeds when going rearwards.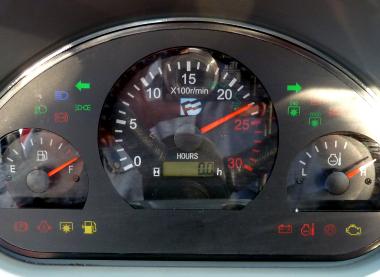 PTO : power take off
The PTO is a standard 6 splines 1"3/8 (35 mm). It is actioned by it's own wet clutch.
The PTO is a twin speed: 540 and 1000 rpm to drive all kinds of standard implements.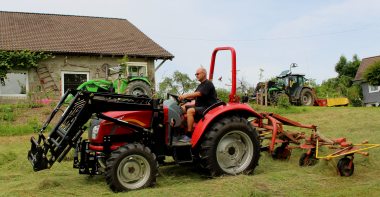 Two hydraulic systems
Two independant hydraulic systems:
A small, dedicated pump for the power steering makes steering a light job, also when you action other hydraulic tools.
The second system, with a bigger pump (33.6 L/min) actions the Cat. 1 and 2 Three point suspension, and two double hydraulic outlets: these outlets can feed all kinds of hydraulic implements, like a front loader, a backhoe, wood splitter etc.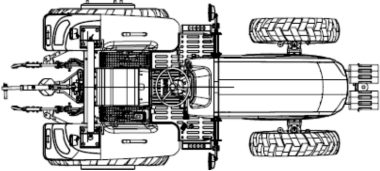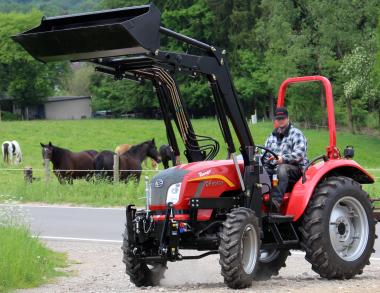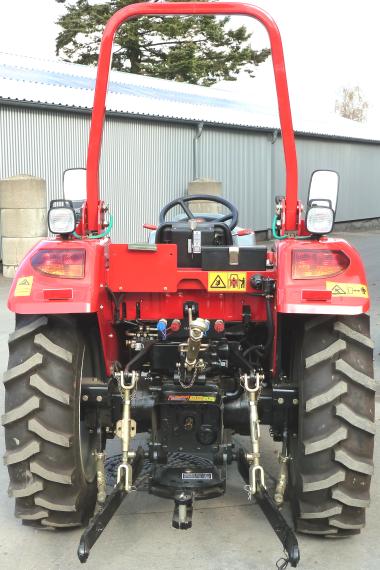 Heavy duty 3-points with precise adjustments
Quality
When assembling the tractor at our company we spend several hours to make a lot of adjustments, checks and some small modifications.
Like this, our clients are very pleased with their DongFeng tractor.

These tractors are simple constructions, as economical to buy as to maintain, and there are only some electronic parts.

numerous high quality options Zuidberg and Scharmuller